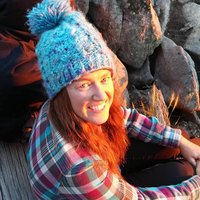 "The real meaning of wilderness will open our eyes like an Idaho sunrise on a summer morning." —Frank Church
Susan was born and raised on the Idaho Snake River Plain to a family that values the beauty of and exploring the great outdoors. She has spent her whole life enchanted by deserts, mountains and rivers.
Upon graduating college, Susan abandoned her career path and instead guided rock and whitewater trips for youth for several seasons. In 2008, Susan took her first NOLS WFR course, igniting a passion for wilderness medicine. Later she became a ski patroller. After many years of too much sun exposure, Susan went to school again, this time to become an RN. She now works as a Neonatal Intensive Care RN and for NOLS Wilderness Medicine.
Susan continues to live in Idaho with her husband. When freed from the demands of work, Susan spends much of her time out wandering trails with her dogs, climbing rocks, skiing pow, and enjoying wildflowers and sunsets.