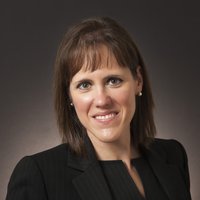 Sarah is the Vice President for Lockheed Martin's Fleet Ballistic Missile (FBM) Programs. In this capacity, she oversees the design, development, production, and sustainment of the sea-based leg of the U.S. nuclear deterrent program. Sarah is responsible for a team consisting of 3,000 employees at 14 locations around the globe and for maintaining a decades long partnership with the U.S. Navy.
Sarah currently serves on the Board of Directors for the Atomic Weapons Establishment (AWE, U.K.) as the Lockheed Martin executive representative. In this role, she actively represents Lockheed Martin as the majority shareholder for AWE whose role it is to support the U.K.'s continuous at sea deterrence missions. A passion for cultivating an inclusive work environment has also led Sarah to accept the position as co-chair for Lockheed Martin Space's Inclusion Council and the executive sponsor for the Space Coast Women's Impact Network.
Sarah attributes her leadership evolution over the years to the experiences and lessons learned from her NOLS backpacking course in Scandinavia. Since then, Sarah has remained involved and committed to the NOLS mission, values, and community and especially enjoys participating in alumni trips.