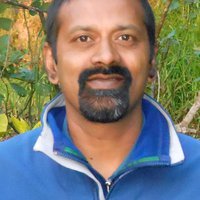 Throughout his 35 years of association with the outdoors, N. Ravi Kumar has remained a firm believer in the power of experiential education. Early trysts with rock climbing and mountaineering naturally led him to outdoor education, wherein the last 22 years have been with NOLS. Ravi identifies closely with NOLS for its mission and values. He believes that outdoor education can play a significant and effective role in developing future leaders who also use wilderness, responsibly.
A mechanical engineer, who felt challenged in conventional work places, Ravi chose to experiment instead with life as an outdoor educator. Over the years he has seen many young people spend extended periods in the outdoors and grow significantly from the experience. Promoting experiential education using wilderness, as classroom has been a most satisfying journey for the erstwhile engineer.
Ravi has been an Expedition Instructor for NOLS since 1999 and has taught for NOLS Wilderness Medicine since 2006. Ravi teaches mountaineering, backpacking and rock climbing courses in the Pacific Northwest, Rocky Mountain and India. In 2009 he took a full time position as NOLS India Program Manager and continues to work one summer course a year.