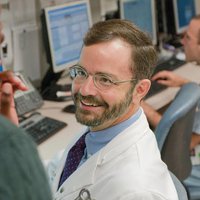 Stuart is the founder and Chief of the Massachusetts General Hospital (MGH) Division of Wilderness Medicine, and the Director of the MGH Wilderness Medicine Fellowship. He is a full-time clinician (attending physician) in the MGH Emergency Department and Associate Professor of Emergency Medicine at Harvard Medical School (HMS). He is an affiliated faculty member at the Arctic Initiative at the Belfer Center, Harvard Kennedy School of Government. He is the primary investigator of NO COV-ED, a clinical trial investigating use of inhaled nitric oxide to treat acute COVID in the emergency department. He is a Board member at Bioplx (Boulder, CO), a transformative microbiomic therapeutics company.
Stuart graduated from the Harvard Affiliated Emergency Medicine Residency in 2003. His research focuses on investigating the pathogenesis and treatment of high-altitude illness and on the interplay between climate change and human health. He has been conducting research with the Himalayan Rescue Association in the Mt. Everest region since 1999 and the U.S. Army's Research Institute for Environmental Medicine since 2004. His NSF-funded work with the Woods Hole Research Center explores the intersection of human health and the environment.
His research teams are active on/in the Himalayas, Mt. Kilimanjaro, the Andes, Alaska, and far Eastern Siberia. In 2011, he worked a Denali National Park climbing ranger patrol and performed the first ultrasound imaging on the summit of N. America. His research has been funded by the National Institutes of Health, the U.S. DOD, MGH, and HMS.
Stuart is co-creator and faculty on the month-long senior medical student course, Medicine in the Wild with NOLS Wilderness Medicine -- now with 14+ years of graduates.
Prior to medical school, Stuart was a NOLS student (FSR 'Dave', '87), worked entirely too briefly as a NOLS Instructor (wilderness and sea-kayaking in Lower 48, Alaska), was the first gaijin (foreigner) to teach English in his rural village of Iwaizumi, Iwate, Japan, earned his Black belt in Shodokan Judo, was Bronze Medalist in U.S. Whitewater Open Canoe Slalom Nationals, a commercial fisherman in Alaska (long-lining for black cod and seining for salmon), and earned his Masters in Fine Art at the Iowa Writers Workshop.
In 2011, he deployed to the devastated town of Kesennuma, Japan, three days after the Tohoku tsunami disaster. He has been nominated for the MGH McGovern Award for Clinical Excellence, and awarded the 2010 NOLS Alumni Service Award, Symbols of Hope Award at the Tokyo Imperial Hotel, and the John E. Thayer III Award by the Japan Society of Boston. He is a National Fellow of The Explorers' Club.
He is the father of Walker (Alaska Wilderness Course grad '18), Emma (Baja BOT '19), and Elizabeth (who is planning her BOT trip "as soon as I'm 12 and they'll let me"), and husband of Malinda Polk. Any day that he gets on his mountain bike is a good one.