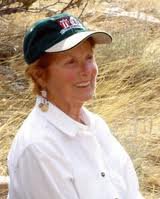 Joan joined the Board of Trustees in December 1980 as the first woman to be elected. These were the years when a young NOLS was working to establish what it wanted to develop into, how to go about it, and the direction it wished to take. In 2004 Joan was elected Trustee Emeritus.
During the early 1980s, the Board of Trustees, with Homer Luther as chair, worked with Jim Ratz to establish a permanent location in Alaska. Joan was able to assist in this process by locating the property on which NOLS Alaska operates today. Not wanting to see a subdivision crop up next to the campus, Joan and her husband, Andy, purchased the adjoining acreage. Later they donated this land to NOLS Alaska. Through the forward thinking of Jim Ratz and John Gans, both former directors of NOLS Alaska (who both later became executive directors of NOLS), we have a high quality operation in Alaska.
Through her association with Alaska and many true Alaskans, Joan was fortunate to meet Joe Redington, "Father of the Iditarod" and in 1993 her dream of experiencing the vast Alaskan landscape was realized by mushing the entire 1,100 miles of the Iditarod Trail. The bond Joan developed with Alaska continues today. Her interest in the entire school, but especially for NOLS Alaska, is as strong as ever.