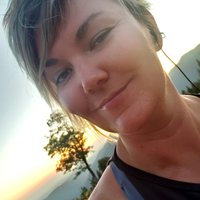 In 2012, Jessie took a Wilderness First Aid class, discovered the outdoor industry, and never looked back. She works as a Wilderness EMT, outdoor educator and guide in California, Oregon, and Arizona.
Like a good Californian, Jessie can be found: diving with stingrays, asking her participants to "sniff" the Jeffery Pine, kayaking with Mexican Free-tailed bats, and putting all of her adventures onto canvas. Any day that ends with being covered in dirt or paint (both is ideal) is a fantastic day.
Life goals: Teach for NOLS Wilderness Medicine. Visit all of the National Parks. Work on a helicopter. Current challenge: Learning to play the banjo.