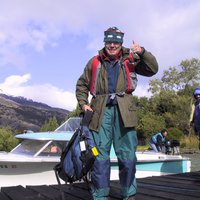 Howard "Pete" Colhoun has been volunteering for NOLS since 1993 and has participated on courses in East Africa, Mexico, Alaska, Patagonia, and the Rocky Mountains. In 1993, he spent several weeks in the high Himalayas on the Sagarmatha Environmental Expedition with NOLS instructor, Steve Goryl.
Colhoun holds an MBA in finance from Harvard, studied as a Fulbright Scholar at the University of Trondheim, Norway, and received his bachelor's degree in civil engineering from Princeton University.
Colhoun is a general partner at Emerging Growth Partners, a venture capital/small public company investment partnership in Baltimore, MD. Prior to that, he served in senior management roles with T. Rowe Price Associates in Baltimore and Arthur D. Little, Inc. in Cambridge, MA. He also spreads his time between serving on the boards of several corporations and organizations including the National Parks and Conservation Association, Irvine Nature Center, The Bryn Mawr School, Princeton University, the Fulbright Association, the National Aquarium in Baltimore Foundation Board, and a host of others. He has been a panelist on the national television show Wall $treet Week for 32 years.
Active in the outdoors, Colhoun enjoys fly-fishing, heli-skiing, sailing, horsepacking, and canoeing. He also travels extensively in the United States and abroad. Colhoun has four children—three of them have taken NOLS courses.
Colhoun was vice chair of the NOLS Board of Trustees from 2003 - 2004, a former co-chair of the Advisory Council and the treasurer of the NOLS Board. In February 2014, Pete was elected as Trustee Emeritus of the NOLS Board of Trustees.