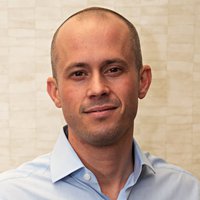 Griffin R. Myers, M.D., M.B.A., F.A.C.E.P.
Dr. Griffin R. Myers is a Co-founder and Chief Medical Officer at Oak Street Health, (NYSE: OSH), a network of primary care centers that delivers value-based care to adults on Medicare and Medicaid. He serves on the company's Board of Directors and supports the over-500 primary care providers who lead teams caring for Oak Street Health patients. Prior to Oak Street Health, Dr. Myers did his residency in emergency medicine at Harvard Medical School at the Brigham and Women's and Massachusetts General Hospitals and before that was a Project Leader at the Boston Consulting Group.
Dr. Myers has a B.S. from Davidson College, an M.B.A. from the University of Chicago Booth School of Business, and an M.D. from the University of Chicago Pritzker School of Medicine. He is a Young Global Leader at the World Economic Forum, a Fellow of the American College of Emergency Physicians, a Research Associate at Harvard Medical School, a Presidential Leadership Scholar, a Fellow at the Aspen Institute, and an Adjunct Instructor at Northwestern University's Kellogg School of Management where he teaches graduate-level health economics.
Dr. Myers is an instrument-rated pilot, and he enjoys poetry, Spanish literature, and exploring wild places. He and his partner, Meredith, split their time between the East Village in New York City and Jackson, Wyoming.