Updates 
June 6, 2019
Dear NOLS Community,
The presidential search committee convened in person in Denver on Monday, June 3 with the Isaacson, Miller team.
The purpose of the meeting was to review the search process to date and discuss the current pool of candidates, with the intent of narrowing the field.
After consideration and discussion of all candidates in the pool, the committee selected a group of candidates about whom it wishes to learn more, and will do so in coming weeks. This group is accomplished and diverse, in many respects. 
In the meantime, efforts will continue to identify qualified prospects.
Thank you for your support during this process. Please feel free to contact me at gavis@bangtailpartners.com with questions or comments.
Warm regards, 
Greg
---
May 6, 2019
Dear NOLS Community,
The presidential search committee met last week by videoconference and reviewed background information on a broad range of initial candidates.  The review was preliminary in nature and, among other objectives, was designed to help provide greater specificity on desirable attributes and experience.
Isaacson, Miller will continue to source and contact potential candidates throughout the process.  That said, if you would like to nominate someone (including yourself), it is important that you do so as soon as possible so that proper consideration can be given to all candidates. You may do so here.
The committee will continue to review candidates as they emerge with the intention of narrowing the field in coming months.
Kind regards,
Greg
---
April 15, 2109
Dear NOLS Community,
While the search committee will continue to seek and welcome input until the very culmination of the search, the formal scoping and outreach phase of the process is nearing conclusion.  Recent events have included a series of forums I attended in Lander with NOLS Directors on April 1; a reception in New York last week hosted by trustees Jane Fried, Isobel Coleman, and Noah Gottdiener; and the Advisory Council meeting this past weekend.  In addition, we continue to receive valuable input via the confidential link on the NOLS web site and IkoWapi.
The board-approved position profile is now available at http://www.nols.edu/president-position-profile. On behalf of the committee, I wish to thank all who provided input and those involved in the preparation of the document. Its purpose is to explain NOLS to those less familiar with the organization and to inform and attract candidates. The profile attempts to capture NOLS today – including its opportunities and challenges – as well as the desired attributes of the next President. No one person, of course, will possess all, but the list will be a valuable guide to the committee as it identifies and evaluates candidates.
Our search consultant, Isaacson, Miller, has created a page dedicated to the search at https://www.imsearch.com/6971 that includes confidential links to apply and to nominate individuals. There is also a "Questions" link (to contact Andarla Hodge of IM). For those who are personally interested in the position and considering submitting a formal application, we are at the point in the process where it would be very useful to us for you to indicate your interest using one of these links.  The process will be moving swiftly, and it will help our planning to know of your interest so that representatives from Isaacson, Miller can be in touch with you to share additional information. You may also use this link to nominate other individuals.
Thanks again for all your help and advice to date.  Please feel free to contact me at gavis@bangtailpartners.com if you have any questions.
Regards,
Greg
---
March 25, 2019
Dear NOLS community,
The search committee continues its work in the scoping and outreach phase of the process. Following up the series of forums in Lander held at the end of February, four forums for NOLS faculty and staff were conducted by videoconference on Thursday, March 14, including one conducted in Spanish. Search committee members facilitated the sessions, with representatives from Isaacson, Miller in attendance. The NOLS Advisory Council met by phone on Saturday, March 23, a portion of which was dedicated to a similar input-gathering session. Thanks to all who have participated and for providing valuable feedback.

As a reminder, Isaacson, Miller is collecting confidential candidate and candidate source recommendations, including input on NOLS and desired candidate attributes, at www.research.net/r/NOLSpresidentialsearchsurvey. To assist IM in this process, please submit your input by March 29th. As always, please feel free to contact me at gavis@bangtailpartners.com directly.
Greg Avis,
Chair, Search Committee
---
February 28, 2019
Dear NOLS Community,
With the assistance of Isaacson, Miller, the Search Committee has commenced a series of forums and interviews in the scoping and outreach portion of the search process. As another tool in gathering valuable feedback, Isaacson, Miller is collecting confidential input, in an online format, from the NOLS community regarding expectations for the new president and perspectives on the ideal candidate profile. Using this form, please feel free to provide answers to any or all of the questions posed.
Kind regards,
Greg Avis
Search committee chair
---
February 12, 2019
Dear NOLS Community,
The NOLS Presidential Search Committee is pleased to announce the selection of Isaacson, Miller as its search consultant.  Isaacson, Miller is a leading search consultant, with international reach, to mission driven-organizations in education and other fields.  The committee chose Isaacson, Miller, in a unanimous selection, based on a number of key factors, including its deep experience in recruiting exceptional leaders to organizations sharing common characteristics with NOLS, cultural compatibility, outstanding reference checks, and demonstrated commitment to diversity equity, and inclusion.
Isaacson, Miller will be represented by Sheryl Ash, Partner; John Muckle, Partner; and Andarla Hodge, Associate.  More on the firm may be found at its website: www.imsearch.com
The search committee held its kickoff meeting with the Isaacson, Miller (IM) team on Friday, February 8 in Houston in conjunction with NOLS Board retreat. The IM team also met with the NOLS Board of Trustees in a session designed to gain feedback from the board about its aspirations for NOLS and its new leader. 
The consultation with the Board was the first step in the scoping and outreach phase of the search process. In the coming weeks, the IM team and the committee will begin to coordinate a series of interviews and group sessions with NOLS faculty and staff, alumni, and other key constituencies. For those who are unable to provide input via either scheduled in-person or tele/video-conference sessions, we will make available a means of providing feedback via confidential electronic survey.
The next in-person session will be conducted this week with faculty and staff in Patagonia in conjunction with a trustees' trip.  We will notify the community as additional sessions are scheduled.
The purpose of the outreach phase is to collect input that will be valuable in developing the presidential position profile, a public document that will provide a background on NOLS and detail the specifications of the position to potential candidates. We expect this profile to be completed and published by mid-April.
Please feel free to contact me with any questions or comments at gavis@bangtailpartners.com.
Kind regards,
Greg Avis
Search committee chair
---
January 11, 2019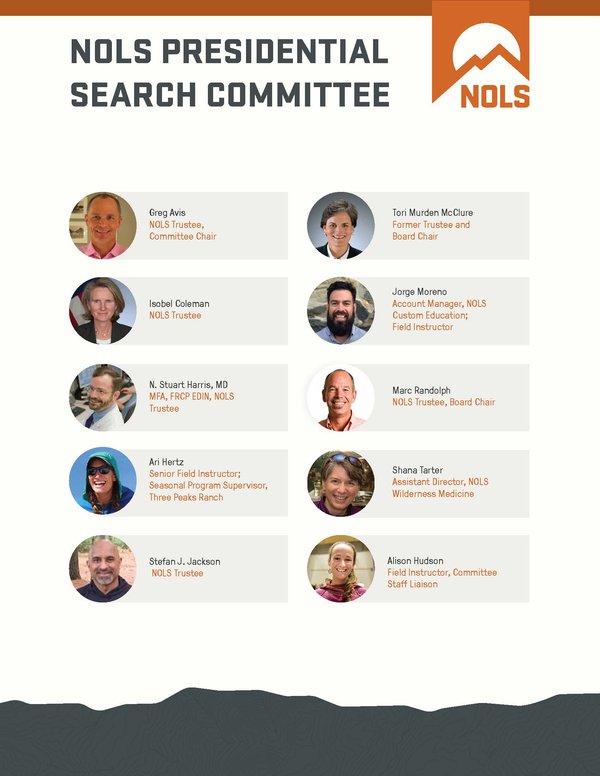 ---
January 10, 2019
I am pleased to report that the membership of the NOLS presidential search committee has been finalized. The committee represents a broad swath of the NOLS community, all who share a passion for NOLS and the desire to find the very best candidate for the position. Selection was extremely difficult, as the number of highly qualified and interested candidates greatly exceeded the available positions. 
Presidential Search Committee:
Greg Avis, Trustee, Committee Chair
Isobel Coleman, Trustee
Stuart Harris, Trustee
Ari Hertz, Senior Field Instructor, Program Supervisor - NOLS Three Peaks Ranch
Stefan Jackson, Trustee
Jorge Moreno, Custom Education Account Manager, Field Instructor
Tori Murden McClure, former Trustee and Board Chair
Marc Randolph, Trustee, Board Chair
Shana Tarter, Assistant Director, NOLS Wilderness Medicine
Staff liaison to the committee: Alison Hudson, Intranet Manager, Field Instructor
The committee will have its inaugural meeting this week. After getting organized, our first task will be to select a search firm to assist us in the process. 
We will keep the community updated on the search periodically, being mindful at the same time of the constraints imposed by strict candidate confidentiality requirements and the desire to be as transparent as possible.
Thanks for your support as we undertake this important and exciting mission.
Warm regards,
Greg Avis
Chair for the Presidential Search Committee