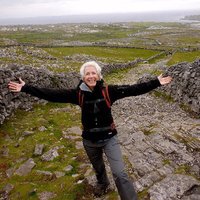 A dedicated educator with more than 28 years of experience in independent schools, Jane Foley Fried was named Head of the Brearley School in December 2011 and assumed her responsibilities at the K–12 girls' school on July 1, 2012.
Previously, Ms. Fried had worked at Phillips Academy in Andover, MA, where she had held leadership positions since 1991, most recently as the dean of admission and assistant head for enrollment, research and planning. She collaborated with faculty, administrators, staff, students, parents and trustees in areas that included the composition of the student body, student achievement and support, institutional research, budget and facilities.
A history and philosophy major at Bowdoin College, which honored her with the Bowdoin Alumni Council's 2013 Distinguished Educator Award, Ms. Fried embarked on a career that would begin as a history instructor, house counselor and coach at Suffield Academy in Connecticut. She later joined the faculty at the Dana Hall School in Wellesley, MA, where her focus turned to admissions and financial aid and residential life.
In 2002, Ms. Fried earned a master's degree from Tufts University, writing her thesis on girls' perceptions of leadership. Other areas of research and interest include the performance of underrepresented students of color and girls in math and science, the impact of independent school education on the lives of alumni, and the scholarship of teaching and learning.
Now in her sixth year at Brearley, Ms. Fried has already made her mark in a wide range of programs and initiatives. Under her leadership, for example, the School has created the Innovation Fund for Teaching and Learning to inspire and reward curriculum exploration and permit flexibility in piloting new projects. Working with President of the Brearley Board of Trustees, she recently completed the development of a dynamic, new five-year Strategic Plan for the School—Opening Doors: A Strategic Vision for the Brearley School—as well as a comprehensive building study. At the same time, she led the School in its NYSAIS 10-year Accreditation Self-Study and the design of a new 85,000 sq. ft. academic building.
She serves on the boards of The Buckley School and NYSAIS (The New York State Association of Independent Schools) and on the advisory committees for The Academy for Teachers and Parents in Action.
Ms. Fried is an avid outdoorswoman. She is married to Stephen Fried, an attorney, and they have two children.