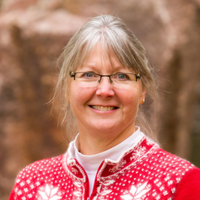 Deborah has served as NOLS' Operations Director since June of 2002. In this position she oversees all of the schoolwide operations, which include campuses operating out of 20 locations. These include international operations in Australia, Canada, Chile, India, Mexico, New Zealand, Scandinavia, and Tanzania.
Deborah also oversees NOLS' Environmental Stewardship and Sustainability department.
During her tenure the operations department has focused on international compliance, new product offerings, managed growth, and financial accountability.
Before joining NOLS, Deborah worked in the corporate sector in Boston. She served as Executive Vice President for Explorica, a student travel company. Prior to that she worked for twelve years for EF International. She served as Executive Vice President of the EF Explore America and EF Educational Tours divisions. On an annual basis, over 100,000 students traveled internationally with EF and approximately 10,000 domestically.
Deborah earned her BA at Wellesley College with a double major in political science and history. She took her junior year abroad and studied at the University of Bristol in England. She earned her MBA at the College of William and Mary with a focus on marketing and human resources. Over the years she has participated in executive education programs at Stanford Graduate School of Business, Darden School of Business at the University of Virginia and the Teton Science School. Additionally, she has taken some Spanish language classes at Central Wyoming College and the Cultural Language Institute of Oaxaca, Mexico.
She and her husband Mark reside in Lander, Wyoming in a home that they built.