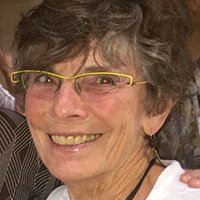 Caroline obtained her nursing degree from St. Luke's Hospital, NYC, a bachelor's degree from Columbia Union College in Maryland, master's degree in nursing from The Catholic University of America in DC, and a Doctor of Science at The Johns Hopkins University School of Hygiene and Public Health. Her time spent as a researcher in health care decision-making, ethics, and as a faculty member of graduate nursing and medical students continues to inform her work today.
Caroline moved to Santa Fe, New Mexico with her late husband Bill in 2001. Since the 45th NOLS anniversary, Caroline has explored various opportunities with NOLS, including backpacking in the Wind Rivers, hiking the Dolomites of Italy, and river rafting. When not traveling, she hikes, skis, and practices yoga.
Since moving to Santa Fe, Caroline has continued her involvement with health care allowing her to engage in her passion for health care ethics. She has served on the Board of SVHsupport, a partner with the Christus St. Vincent Regional Medical Center, chaired the Health Care Advisory Panel, served as member and chair of the hospital's Bioethics Committee and the ethics consult team, and is a board member of the Saint Vincent Hospital Foundation.
Caroline has been active in the Santa Fe community with a variety of non-profit organizations, in particular Girls Incorporated. Under her leadership as a Board member and chair, she and Bill facilitated the Gateway partnership between NOLS and Girls Inc. As a result of that partnership more than 20 girls have received scholarships to attend an Outdoor Adventure Course for 14-15 year olds. Caroline continues to serve as an Honorary Board member for Girls Inc. and was awarded the first Girls Inc. "Smart" award in 2016 for her service, inspiration, and role modeling to girls, and philanthropic involvement. In addition, Caroline's grand nephew, Caegen, is a graduate of two NOLS courses and her step-grandson, Austin completed his first Outdoor Adventure Course in 2012 and a NOLS gap year Fall Semester 2014 in the Rocky Mountains.